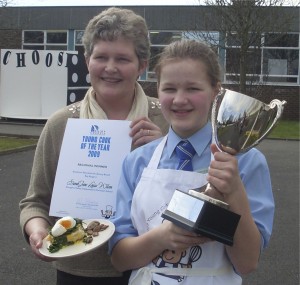 Emma Wilson recently earned the title of Dairy Council for Northern Ireland's 2010 Young Cook of the Year, completing a special family double act started by her sister Sarah-Jane last year.
The competition, open to all Key Stage 3 and 4 pupils, attracted over 200 entries from 47 schools across the province. Each entrant was asked to design a healthy, two course meal to celebrate the use of local products such as milk, cheese, yoghurt, buttermilk and butter within a budget of £8. Initially Emma won the S.E.L.B. Key Stage 4 heat for her recipes and written assignment justifying her choice of dishes. She then went forward to the finals in Ashfield Boys High School, Belfast, where she cooked her meal competing against 14 other finalists.
The competition was judged by a team of judges from: the Health Promotion Agency, N. Ireland; the Council for Curriculum Examinations and Assessment in Northern Ireland (CCEA) and the Catering Management of the North Eastern Education and Library Board (NEELB).
Despite the high standards set, Emma was the overall winner. She won gift tokens for herself and £850 for the school. This achievement shows Emma's interest, hard work, diligence and skill in the area of Home Economics, the encouragement of her mother, Mrs. Anne Wilson and also her teacher, Mrs. Elizabeth Gilmour.